![CDATA[YII-BLOCK-HEAD]]>

<![CDATA[YII-BLOCK-BODY-BEGIN]]>
Machine - Bezzera Giulia
LE 38 950
About product
A high-end commercial style espresso machine designed for a home barista with the highest of standards.
Featuring a 2 litre boiler and a heat exchanger the Giulia enables home barista's to froth and extract espresso at the same time.
The Bezzera Giulia froths quickly and to perfection and with froth a 1 litre jug with ease.
The design of the coffee extraction piping ensures the machine extracts perfect shot after shot.
Technical specs:
o
Group head: 58mm Faema E61
o
Boiler: 2L Copper Boiler with Heat Exchanger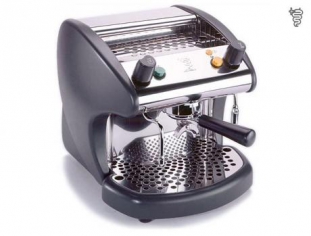 Machine - Bezzera BZ02
The model BZ02 was created for semi-professional use in small community it is equipped with vibrating pump.Two versions are offered: automatic and manual; both versions has a tank for water supply.
BZ02 PMWorks with a vibration pump and delivery groups with solenoid valve.The semi-automatic "PM" series operates by means of a push button. When pressed, coffee is delivered until the button is pressed again to stop delivery.• Electric heating• Automatic boiler water supply• Automatic stopping of electric resistances in case of lack of water in the boiler• In-built pump
Technical specs:
o Power: 1200wo Dimension: 36 × 42.5 × 36 cmo Boiler Capacity: 1.5Lo Bucket Capacity: 3Lo Pump: Vibratingo Made In: Italyo Manufacturer: Bezzera Coffee Machines
LE 28 950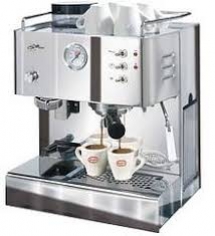 Machine - QuickMill Pegaso 03035
Very similar to the QuickMill Orione except that the Pegaso has a built-in grinder, which is convenient if you are requiring 1 machine for all. The features of both are as follows; (Thermo block) Which makes it ready in less than 5 minutes

Technical specs: Thermoblock BoilerAluminium group head 58 mm.Automatic grinding dose for pre-set shot.Built-in coffee tamper. Single and double coffee baskets.Wand for steam and hot water. Water tank is 1.5 L.The heating coil is 1200W Weight 12.7 kg
LE 19 699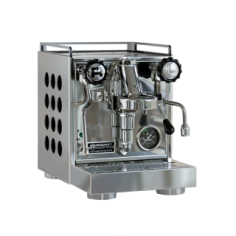 Machine - Rocket Apartamento - Black
The Apartamento is a heat exchange espresso machine from Rocket Espresso with an E-61 brew-group made of chrome plated brass to ensure proper heat stability
Technical specs:o Boiler size: 1.8L Heat Exchanger type..o Brewing Head type Faema E61, in chrome platted copper.o Vibration pump.o Gauge for boiler pressure.o Reservoir Capacity: 2.5Lo Power : 1200 Wo Dimensions (mm): 274W x 360D x 425Ho Weight: 20.0 kg
LE 31806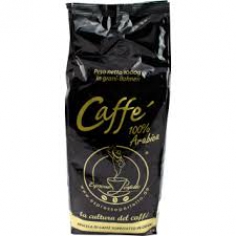 Coffee Beans - EP Arabica 1 Kg

Espresso Perfetto 100% ArabicaThe black pack from Espresso Perfetto!This blend is a 100% Arabica of different origins of the best quality beans, with intense flavor and strong aroma to brew a full body and smooth espresso and other coffee drinks, a must have at home for genuine coffee lovers.Suitable for all professional and automatic machines.Italian originVented 1 kg package.

LE 675