![CDATA[YII-BLOCK-HEAD]]>

<![CDATA[YII-BLOCK-BODY-BEGIN]]>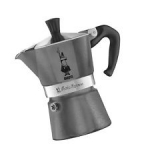 Moka Pot - BIALETTI Grey Emotion 3TZ
LE 540
About product
The Bialetti Moka Grey Emotion (3 cups ). From the early 1950s to the present day, Bialetti has manufactured over 200 million coffee makers. In particular, the Moka Express has become iconic and has allowed millions of consumers to enjoy great Italian coffee.
The Moka produces a rich, authentic espresso in just minutes. The aluminum pot features Bialetti's distinctive eight-sided shape that allows it to diffuse heat perfectly to enhance the aroma of your coffee.
Key features
Traditional moka shape 3 cups stove-top
A full Grey Highly resistance color
Aluminum
Can be used with any espresso grind coffee
Easy & Fast usage for coffee preparation
Ergonomic stay-cool handle and knob
Exclusive safety inspection valve patented by Bialetti
Ideal to make coffee according to the Italian coffee ritual
Made in Romania under Bialetti authority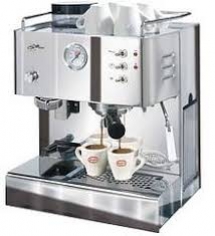 Machine - QuickMill Pegaso 03035
Very similar to the QuickMill Orione except that the Pegaso has a built-in grinder, which is convenient if you are requiring 1 machine for all. The features of both are as follows; (Thermo block) Which makes it ready in less than 5 minutes

Technical specs: Thermoblock BoilerAluminium group head 58 mm.Automatic grinding dose for pre-set shot.Built-in coffee tamper. Single and double coffee baskets.Wand for steam and hot water. Water tank is 1.5 L.The heating coil is 1200W Weight 12.7 kg
LE 19 699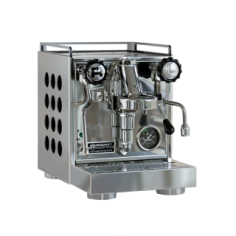 Machine - Rocket Apartamento - Black
The Apartamento is a heat exchange espresso machine from Rocket Espresso with an E-61 brew-group made of chrome plated brass to ensure proper heat stability
Technical specs:o Boiler size: 1.8L Heat Exchanger type..o Brewing Head type Faema E61, in chrome platted copper.o Vibration pump.o Gauge for boiler pressure.o Reservoir Capacity: 2.5Lo Power : 1200 Wo Dimensions (mm): 274W x 360D x 425Ho Weight: 20.0 kg
LE 31806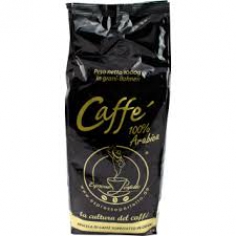 Coffee Beans - EP Arabica 1 Kg

Espresso Perfetto 100% ArabicaThe black pack from Espresso Perfetto!This blend is a 100% Arabica of different origins of the best quality beans, with intense flavor and strong aroma to brew a full body and smooth espresso and other coffee drinks, a must have at home for genuine coffee lovers.Suitable for all professional and automatic machines.Italian originVented 1 kg package.

LE 675