![CDATA[YII-BLOCK-HEAD]]>

<![CDATA[YII-BLOCK-BODY-BEGIN]]>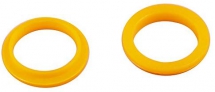 Silicone Gasket for Reusable Capsules (2 pcs)
About product
Espresso Perfetto capsule gaskets are made of food grade silicone material, specially designed for the safe use on pod machines.
Food grade material is used despite the fact that gaskets do not come in contact with the brewed coffee, they are outside the coffee circuit.
Longevity is minimum 6 months.
Pack of 2 gaskets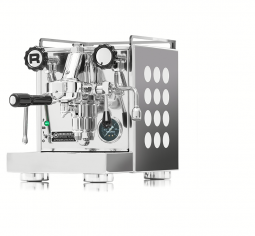 Machine - Rocket Appartamento - White
The Appartamento is a heat exchange espresso machine from Rocket Espresso with an E-61 brew-group made of chrome plated brass to ensure proper heat stability
Technical specs:o Boiler size: 1.8L Heat Exchanger type..o Brewing Head type Faema E61, in chrome platted copper.o Vibration pump.o Gauge for boiler pressure.o Reservoir Capacity: 2.5Lo Power : 1200 Wo Dimensions (mm): 274W x 360D x 425Ho Weight: 20.0 kg
£ 28600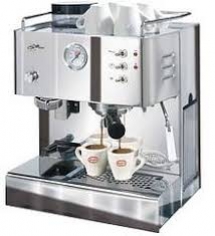 Machine - QuickMill Pegaso 03035
Very similar to the QuickMill Orione except that the Pegaso has a built-in grinder, which is convenient if you are requiring 1 machine for all. The features of both are as follows; (Thermo block) Which makes it ready in less than 5 minutes

Technical specs: Thermoblock BoilerAluminium group head 58 mm.Automatic grinding dose for pre-set shot.Built-in coffee tamper. Single and double coffee baskets.Wand for steam and hot water. Water tank is 1.5 L.The heating coil is 1200W Weight 12.7 kg
£ 19760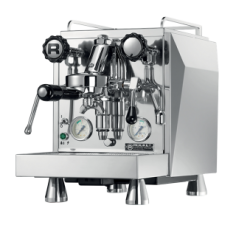 Coffee Machine - Rocket Giotto Type V
Giotto Evoluzione V is a heat exchange espresso machine, the boiler is insulated to keep the heat and avoid machine body getting hot, Giotto Evoluzione has 2 pressure gauge one for boiler pressure and the other for brewing pressure.Comes with a vibrational pump
Technical specs:o Boiler size: 1.8L Insulated Heat Exchanger type..o Brewing Head type E61o Vibration pump.o Gauges for boiler & pump pressure.o Programmable digital brewing temperature.o Reservoir Capacity: 2.5Lo Power : 1200 Wo Dimensions (mm): 335W x 420D x 400Ho Weight: 23.0 kg
£ 33000